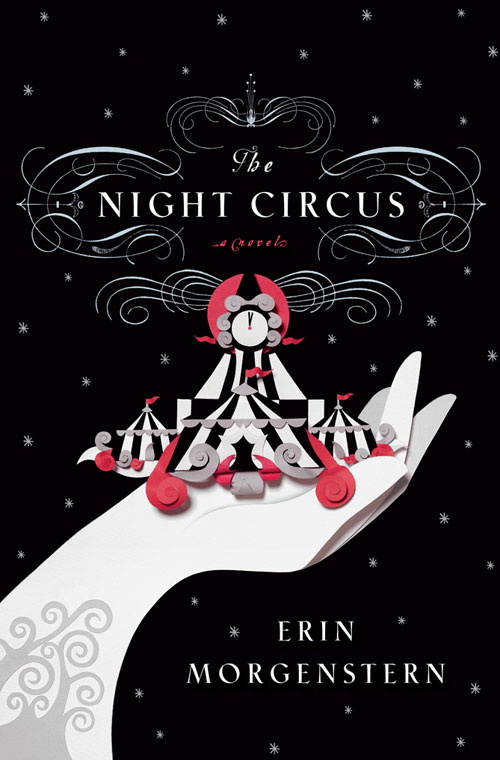 The Night Circus
by Erin Morgenstern is a fantastic debut novel by a writer to watch. While not a perfect novel, it ranks high on my list for the year.
The novel opens beautifully:
The circus arrives without warning. No announcements precede it, no paper notices on downtown posts and billboards, no mentions or advertisements in local newspapers. It is simply there, when yesterday it was not.
The book is about a contest between two illusionists who have been trained since childhood by their masters. Set in the late 1800s and early 1900s, the players, Celia and Marco, spend their lives battling in a game, the rules of which they do not know. The forum for the contest is a circus, Le Cirque des Reves, a travelling circus that opens at nightfall and closes at dawn. Celia's father, a famed illusionist, takes custody of her as a young child and trains her for this contest. Marco is plucked out of an orphanage and trained by a mysterious man. In the circus, they create magical (not slight of hand) illusions that dazzle attendees. The contestants know they are in a contest but don't know each other (for at least a while) and are inextricably bound to each other. Over the course of the novel, they learn about themselves, the contest, others affected by the contest and each other.
The writing beautifully captures the magical and ephemeral quality of the characters' existence. The novel jumps through several time periods and to many different locations, further creating the feeling of an illusion. The chapters are well constructed, not too long, and full of movement. At no point does Morgenstern wander into long (or short) boring narratives. Morgenstern is a painter, and her novel feels like it is a painting. She masterfully employs color to create moods.
Where the novel came up a bit short is at the ending. It was good and brought closure but it lacked the richness that filled the rest of the novel. In an interview, Morgenstern said that creating scenes and images are her strength, not plot. For a debut novelist, she admirably handled all of it but the plot came up a bit short at the end.
Usually, I do not love "magical realism" books. This is an exception. The advance buzz for this book was immense; the novel held up to expectations. Comparisons have been drawn to Harry Potter, Twilight and other magical universe books. I would recommend reading this book. It is enjoyable and will be the first of many from Morgenstern.
The book preview:
An interview with the author: